PURROS PG-X8 Ball End Mill Grinder, Grinding Ranges Dia.: M6-M20, Grinding Wheel Optional: CBN/SDC, Power: AC220V/250W
Description
Description
PURROS PG-X8 is an exclusive grinder designed to carry out ball end mill.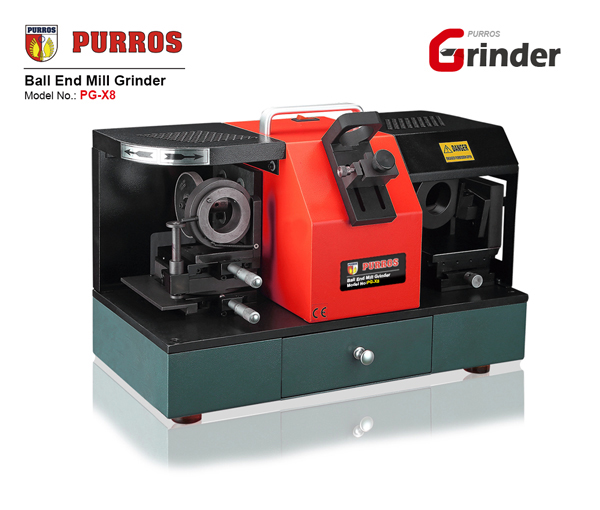 Advantages
Easy machine setup.
Fewer requirements for manual support.
Flexible to operate.
Perfect choice of grinding tool to manage milling over critical angles.
Reduce the possibility of tool change times
Suitable for higher productivity requisites.
Provides accurate grinding.
Provides maximum machining rates.
Fast and high speed in performance.
SPECIFICATION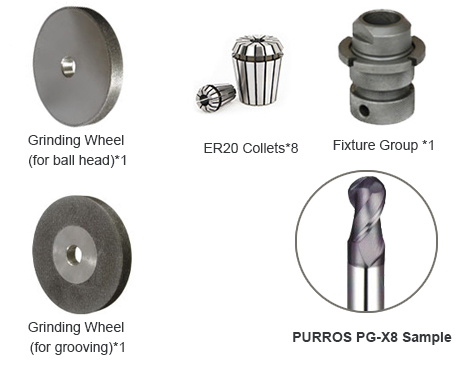 Model:
PG-X8
Grinding range:
Φ6-Φ20
Motor:
220V/(250W)
Speed:
4800RPM
Grinding wheel:
CBN or SDC
Dimension:
53*29*37CM
Weight:
37KG
Standard Model:
Types of Grinding Wheel: CBN (for HSS)

Grinding the 'R' angle *1 piece;  Grinding the lip relief angle *1 piece

Types of Collet: Φ6,Φ8,Φ10,Φ12,Φ14 ,Φ16,Φ18,Φ20
Collet Chuck *1
Option Model:
Types of Grinding Wheel: SD (for Carbide)

Grinding the 'R' angle *1 piece;  Grinding the lip relief angle *1 piece