PURROS PG-X3 End Mill Grinder, Grinding Ranges Dia.: M4-M14, Grinding Point Angle: 0°-5°, Power: AC220V/180W
Description
Description
End mill grinder is a versatile grinding device that can be applied for cutting operations which need to be done in different angles. With this extensive types of cuts over different materials are carried out in accordance with the specific industrial usage.
PRODUCT INSTRUCTION
SPECIFICATION
Model:
PG-X3
Diameter:
Φ4-Φ14
Power:
220V/180W
Speed:
4800RPM
Point angle:
0°-5°
Dimension:
35*23*24CM
Weight:
14KG
Standard Model:
Grinding Wheel:CBN (for HSS)*1
Types of Collet:  Φ4,Φ6,Φ8,Φ10,Φ12,Φ14
Two collet chucks:

2,4 flutes*1 piece;

3,6 flutes*1 piece

Optional Model:
Grinding Wheel :SDC (for Carbide)
Features:
It is a good alternative for conventional mills and above all it is cost effective and shows enhanced performance. It is without doubt one of the versatile tools designed for smooth and accurate milling process. This equipment helps to make different shapes of metal components and works several steps ahead than of conventional tool as in traditional process possibilities of this equipment to break were found to be higher as the edge of this instrument becomes comparatively weaker. This tool is highly supportive in this aspect as the operator can create intricate drilling and effective sharpness with least difficulties.
2-Flute End Mills

3-Flute End Mills

4-Flute End Mills

Fabricating of Milling Cutter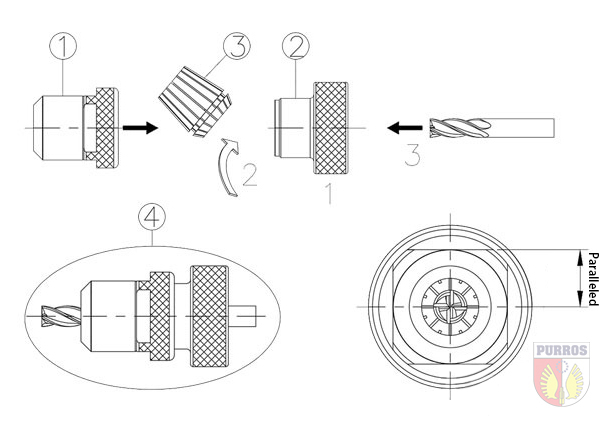 Calibration of Milling Cutter