PURROS PG-X7 Portable End Mill Grinder, Grinding Ranges Dia.: M12-M30, Grinding Point Angle: 0°-5°, Power: AC220V/250W
Description
Description
Each model bears specific machining capacity and among them PG-X7 can be applied for grinding both side and face of mill.
Advantages
1. Easy machine setup.
2. Fewer requirements for manual support.
3. Flexible to operate.
4. Perfect choice of grinding tool to manage milling over critical angles.
5. Reduce the possibility of tool change times
6. Suitable for higher productivity requisites.
7. Provides accurate grinding.
8. Provides maximum machining rates.
9. Fast and high speed in performance.
10. Designed for grinding 2,3 and 4 flute end mills.
11.Also suitable for grinding carbide and steel.
PRODUCT INSTRUCTION
End mill sharpening machine PG-X7
1.Spiral end mill grinder can grind double flute, three flute, four flute and six flute. Choosing can grind five flute
2. Grinding is accurate and rapid, easy operation, without skill requirement to grind easily.
3. With diamond grinding wheel, only one piece can complete all procedures. It can be equipped directly with an accurate angle and long service life.
SPECIFICATION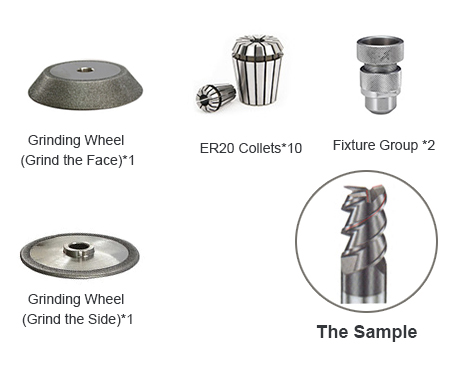 Model:
PG-X7
Diameter:
Φ12-Φ30
Power:
220V/250W
Speed:
4800RPM
Point angle:
0°-5°
Dimension:
56*33*38CM
Weight:
40KG
Standard Model:
Face grinding wheel :CBN (for HSS) *1
Side grinding wheel: CBN (for HSS) *1
Types of collet chucks:

2,4 flutes*1 piece;

3,6 flutes*1 piece

Option Model:
Face grinding wheel :SD (for carbide)
Side grinding wheel: SD (for carbide)   
Features:
2-Flute End Mills

3-Flute End Mills

4-Flute End Mills