PURROS PG-Y5 High-Precision Screw Tap Grinding Machine, Grinding Ranges Dia.: M16-M42, Grinding Point Angle: 5°-30°, Power: AC220V/250W
Description
Description
Advantages
One of the most attractive features of our screw tap grinding machines are the flexibility in all terms like size of the machine, operation aspects, machining performance, device set-up in the workshop premises, and so on.
1. Specialize in grinding screw tap. It's precise, easy operation and efficient, also can save large sum of expense for purchasing blade annually.
2. Send you Taiwan diamond wheel can be secondary reused, with accurate angle and long service life.
3. The electrical controlled high-rate DC motor features stable power, strong horsepower, efficient and long service life.
4. Portable screw tap grinder can grind 2-flute, 3-flute, 4-flute taps, Choosing can grind 5-flute.
SPECIFICATION
Tap grinding had not been a possible machining process in earlier days, as the work material has to be fed into different sorts of grinding machines to obtain the final form of tap grinding. Tap grinders or screw tap grinding device is a recently created and most innovative form of grinder especially created for tap grinding purpose.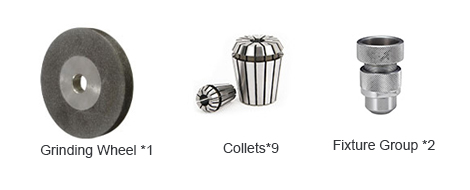 Model:
PG-Y5
Diameter:
M16-M42
Voltage:
220V
Power:
250W
Speed:
4800RPM
Point angle:
5°-30°
Product size:
40*30*31CM
Weight:
27KG
Standard Model:
Grinding Wheel: CBN (for HSS) *1
Types of Collet: 13, 14, 16, 18, 20, 23, 25, 28, 30
Spec of Collet: 3 flutes*1 piece; 4 flutes*1 piece
Option Model:
Grinding Wheel: SD (for Carbide)