PURROS PG-26D Twist Drill Sharpening Machine, Grinding Ranges Dia.: Φ12.1(8)-Φ26(32), Grinding Point Angle: 85°-140°, Power: AC220V/250W
Description
Description
PRODUCT INSTRUCTION
Portable idiot drill bit re-sharpening machine, twist drill grinder, universal small drill grinder, universal big drill grinder, universal precision drill sharpener, it is accurate and fast with easy operation.
1. Grinding is accurate and rapid, easy to operate, and without requiring professional skills to sharpen.
2. Economical price that greatly reduces the cost and improves the efficiency.
3. With diamond grinding wheel, it can be equipped directly with an accurate angle and longer service life.
4. The electrically controlled and powerful DC motor: stable frequency, strong horsepower and longer service life.
5. Bearing shaft and locking unit.
6. Independently researching and developing 26D can grind the drill bit point angle, back angle and front cutting lip (front angle), you also can control the centre spot at random instead of centre drill, escape of chips easily.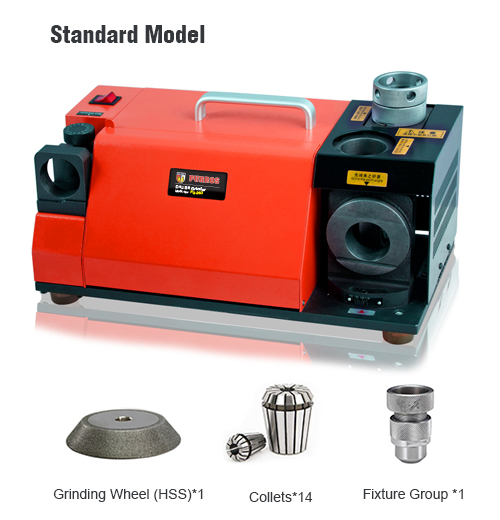 SPECIFICATION
Model:
PG-26D
Range:
Φ12.1(8)-Φ26(32)
Angle:
85°-140°
Voltage:
220V
Power:
250W
Speed:
4800RPM
Volume:
50*26*27CM
Weight:
27KG
Standard Model:
Grinding Wheel :CBN (for HSS)*1
Types of Collet: Φ13, Φ14, Φ15, Φ16, Φ17, Φ18, Φ19, Φ20, Φ21, Φ22, Φ23, Φ24, Φ25,Φ 26
Spec of Collet Chuck: (Φ8-Φ30)*1
Optional Model:
Grinding wheel :SDC (for Carbide)*1
Type of Collet: Φ8, Φ9, Φ10, Φ11, Φ12, Φ27, Φ28, Φ29, Φ30,Φ31,Φ32
Spec of Collet Chuck: (Φ31~Φ32)